The Vietnam Food Tour that Foodies Will Love!
The Vietnam Food Tour that Foodies Will Love!
Three adjectives that aptly describe Vietnamese cuisine are "punchy," "vibrant," and "fresh." Vietnamese cuisine, also known as the "Kitchen of the World," is full of intricate and contrasting flavors, textures, and ingredients that work well together to create a wide variety of appetizing dishes that differ from place to region.
When you picture Vietnam, you probably picture proud farmers tending to their fields while donning conical hats, bustling inhabitants buying food for the day at fresh markets, and street vendors selling native fare. Vietnamese cuisine represents a significant portion of its culture.
Many of Vietnam's meals contain historical references. Everything in the nation's cuisine is influenced by its colonial past, from the recipes that have been refined through time as new generations take over the family street food stand. One of Vietnam's most well-known foods, banh mi, is a reminder of the country's French colonial heritage (a crusty bread sandwich). However, Vietnam added pate, pickled veggies, and of course fish sauce to the standard western sandwich to give it its own unique twist, similar to many of the cuisines in the nation.
Vietnam food is all on contrasts and a range of fragrances and plants that mix together effortlessly, like adding fresh herbs and leaves to pho, a brothy noodle soup. Without them, the meal is difficult to imagine.
You'll discover that each region of Vietnam has its own specialties and traditional foods when you take a food tour around the country. For example, the light, delectable seafood on the northern coast contrasts with the sweet meals of the south and even more so with the spicy food of the central region.
If you can, include culinary tours in every area of Vietnam in addition to a street food tour of Hanoi on your schedule! The greatest way to enjoy the tastes and flavors of this stunningly mysterious nation is on a local-led culinary tour of Vietnam.
Vietnam's history is rich and exciting, involving emperors, colonization, revolutions, and conflicts. You may quickly learn about the history of Vietnamese food by going back in time and seeing how these historical occurrences influenced the nation as we know it now.
Vietnam's indigenous population survived by hunting and gathering rice as far back as 12,000 BC, with the advent of agriculture being apparent 6,000 years later. Long ago, Vietnam's rich plains offered ideal conditions for cultivating rice, herbs, plants, and raising animals; its rivers and coastline also supplied fresh fish and seafood. These basic items continue to be the foundation of Vietnamese cuisine today. The only thing that has changed is the cooking utensils due to increased neighboring countries' influence.
Vietnam was primarily regarded as an extended Chinese province in the second century BC. The introduction of noodles into Vietnamese cuisine was a byproduct of the dynasties that controlled Vietnam for more than a millennium. While you would think otherwise, it's interesting to note that one of Vietnam's most well-known meals, pho, was only developed in the 20th century in Northern Vietnam.
Vietnam was a part of French Indochina from 1887 to 1954. Strong French influences that are still present in Vietnamese cuisine today started during this time. The French love of a hearty soup and the Vietnamese noodles and spices undoubtedly led to the creation of pho. With meals like banh mi (pain de mie), a French baguette stuffed with specialty meats, pickled vegetables, fresh herbs, and pate, the Vietnamese went farther in their appropriation of French cuisine.
The Vietnam-American war left its victims in poverty, destruction, and famine. For many years, Vietnam was regarded as one of the poorest countries in the world. However, agile Vietnam underwent a remarkable transformation and became one of the world's largest rice exporters. Today, the country is on the cutting edge of highly sought-after cuisines.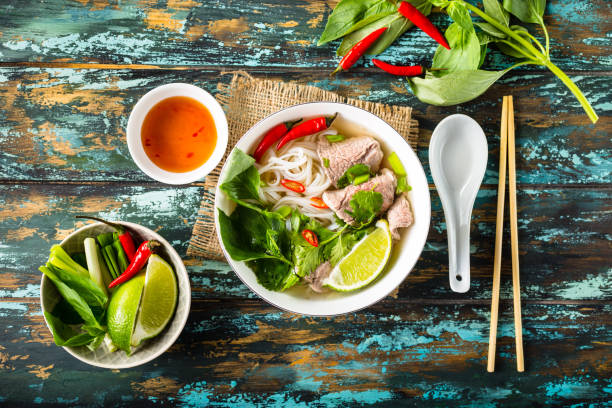 A Breakdown of Your Vietnam Food Tour
As a true foodie, you will begin your trip with a Vietnam street food tour on the back of motorbikes in Hanoi. Then, as you travel through Hoi An, a UNESCO World Heritage Site, you'll sample local specialties, be invited to cooking classes with local chefs, and immerse yourself in the local way of life.
Traveling from north to south, a Ho Chi Minh street food tour will be your second-to-last stop before finishing your trip cycling along the Mekong Delta's waterways.
This is your chance to explore Vietnam's culinary paradise!